John Deere X125 Lawn Tractor
Specification
| | |
| --- | --- |
| Model | X125 |
| Recommended Mowing Area | Up to 5000m2 |
| Engine | |
| Type | Petrol |
| Nominal Power | 9.6kW at 3150rpm |
| Displacement | 500cm3 |
| Cylinder | Single OHV |
| iTorque Power System | No |
| Fuel Capacity | 9.1Litre |
| Transmission | |
| Type | Hydrostatic |
| Drive System | 2-Wheel Drive |
| Cruise Control | No |
| Forward / Reverse | 8.9 / 5.1km/h |
| Steering | |
| Type | 2-Wheel Steer |
| Turning Radius | 45.7cm |
| Uncut Circle Radius | 63.5cm |
| Mower Deck Options | |
| Deck | 42 Edge (107cm / 42") |
| Mulching | Standard |
| Cutting Height | 25-101mm |
| Deck Lift System | Manual |
| Deck Engagement | Mechanical |
| Other | |
| Collector | Optional |
| Capacity | 230Litre |
| Seat Type | Standard |
| Warranty | 2 Year |
Choose the Deluxe Mulch kit for the best possible mulched finish or the optional 230 litre collection system to collect clippings.
Local Delivery or collection only, call for information
RRP £2649.60 Inc VAT
Features
Foot control pedals

A Kanzaki® Tuff Torq® hydro/automatic transmission gives an infinite choice of speeds and makes changing the direction of travel easy.

Hydro/automatic transmission

Appropriate transmissions are used in each model, depending on rear tire size and tractor performance requirements to ensure excellent performance and reliability.

Solid one-piece frame

The solid one-piece frame is constructed of 3.0-mm (0.11-in.) 12-gauge steel.

Briggs & Stratton 500-cc engine

18.5hp overhead valve engine.

Mower deck

The Edge Cutting System has been trademarked to emphasize the advantages of the John Deere mower deck designs. They give the mower superior convenience, performance, and reliability.

Mower wash port

A wash port is provided to make cleaning the underside of the mower deck easy.

StarLock blade design

The StarLock blade design keeps the blade bolt at the correct torque for easy removal.

Height adjustment lever

Spring-assisted, low-effort lift lever simplifies setting and adjusting the mower cut height.

No-tools oil-drain valve

No-tools oil-drain valve provides easy access for oil changes.
Description
The next step up in durability is the John Deere X-series tractors. The John Deere X125 tractor comes with a fully welded, heavy gauge steel frame and cast iron front axle.
There are also Comfort Series features (on the X145 and X165) including a premium high-back seat and a soft grip steering wheel for less operator fatigue.
A generous 230 litre capacity bagger can pack quite a few clippings. Keeping your edge on lawn and garden work has never been easier with the all-new John Deere X 125 tractor. The John Deere "Edge" cutting system gives you a smooth, even cut while the easy to use tractor controls make lawn care quick and simple.
Every John Deere X125 tractor starts with a solid foundation. You've got a unit designed to stand up to the toughest test of all time. And to make sure your John Deere X125 tractor stays looking as good as the day you bought it, the bonnet is made of UV resistant JD Loy material that eliminates rust and dents. All designed to keep your John Deere X 125 tractor looking like a Deere for years to come!
Images
Downloads
Download the latest Brochure here: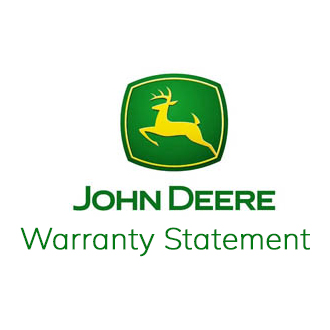 Price £2251.00
Inc Vat

Online Sales Policy

It is our policy that all John Deere products are handed over directly to the customer either at one of our 4 retail locations or on site if delivered to you. Delivery can be arranged subject to your location. Please call 01962 892466 for further information.
Please choose from one of the options below:
FREE engine oil for 4-stroke machinery and FREE delivery for boxed goods (UK mainland except Scottish Highlands and islands)
All 4-stroke petrol powered products are supplied with a FREE bottle of engine oil. Delivery is FREE to the UK mainland (except Scottish Highlands and islands). However for larger items, such as lawn tractors, a delivery charge may apply. For more information check your postcode with our Shipping Costs.
Honda mowers | John Deere Mowers | Masport Mowers | Hayter Mowers | Hand Mowers | Toro Hoverpro Mowers | Wolf Mowers | Countax Tractors | John Deere Tractors | Honda Tractors | SCH Accessories
Winchester Showroom (Hampshire):
Winchester Garden Machinery Ltd, Hillier Garden Centre,
Romsey Road, Winchester, Hampshire, SO22 5DL.
Telephone 01962 892462

Winchester Workshops & Spares (Hampshire):
Winchester Garden Machinery Ltd, Fair Lane,
Winchester, Hampshire, SO21 1HF.
Telephone 01962 856468 option 4 (workshops)
Telephone 01962 856468 option 5 (parts)

Liss Showroom (Hampshire,West Sussex):
Winchester Garden Machinery Ltd, Hillier Garden Centre,
Farnham Road, Liss, Hampshire, GU33 6LJ.
Telephone 01730 895035

Windlesham Showroom (Surrey,Berkshire):
Winchester Garden Machinery Ltd, Hillier Garden Centre,
London Road, Windlesham, Surrey, GU20 6LQ.
Telephone 01344 628874

Forestry & Arboricultural Department:
Winchester Garden Machinery Ltd, Fair Lane,
Winchester, Hampshire, SO21 1HF.
Telephone 01962 857951

Golf & Commercial Sales Department:
Winchester Garden Machinery Ltd, Fair Lane,
Winchester, Hampshire, SO21 1HF.
Telephone 01962 857944