Autumn Blower Guide
Autumn Blower Guide - Which one to buy?
As the days shorten and the temperature starts to drop we find ourselves, at long last, free from the chore of mowing our lawns. Of course, as with all things in life, as soon as one job comes to an end another one presents itself and your garden is no exception.

As the conscientious and responsible machine owners that we know you all are, you will no doubt be reaching the point where your lawnmower is being booked in for its annual service before it retires to the shed or garage until next season.

If you're unsure about how best to service and store your mower then we recommend checking out our guide "Preparing for Winter".

As the grass stops growing so do the trees and
in doing so they begin to shed their leaves…

…all over your lawns, driveways, roofs and patios!
WGM are here to run you through the best products available for tackling that unwanted foliage.
Handheld Blowers
The most popular choice for domestic customers with smaller sized gardens, our range of handheld blowers offer ample airflow within a small and easy to handle frame.
The new Echo PB-2520 with its low-emission engine is the perfect option for those who are environmentally conscious and with a price tag of just over £200 it won't break the budget either! With a maximum air speed of 76.m/sec the Echo PB-2520 has ample power for smaller gardens. The Echo PB-2520 comes with a domestic warranty of five years and a professional warranty of two years, so you can rest assured that the PB-2520 is a product that will last.
By far the most popular blower of Autumn 2017 was the Stihl BG86 C-E. This popularity is due in part to the name and reputation that Stihl have built for themselves over the last 90 years as manufacturers of high quality garden machinery.
The BG86 more than lives up to this reputation of excellence with a whole range of features and accessories. It comes with a round nozzle and a flat nozzle attachment which boosts the air speed from 69 m/s to 85 m/s offering you more power when you need it. Further to this the BG86 boasts a reduced-emission engine in addition to the ErgoStart feature to ensure easy, efficient starting in all weather conditions. The anti-vibration system reduces the risk of "white-finger" allowing for more prolonged use of the machine when tackling those larger jobs. Optional extras such as the gutter cleaning kit and the vacuum conversion kit make the BG86 one of the most versatile and reliable handheld blowers on the market today.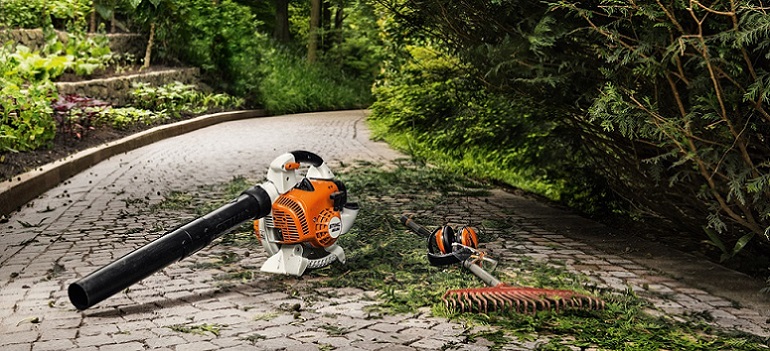 Most handheld blowers will run on a two-stroke fuel mix. Two-stroke engines can cause some people issues in terms of remembering to mix the fuel or remembering the mix ratio.
For anybody with reservations regarding two-stroke engines we would recommend looking at the Honda HHB25E – the world's first four-stroke blower.

The Honda HHB25E is compact and quiet whilst offering equal power compared to either of the above machines and the inclusion of a flat nozzle allows for a more precise and powerful air stream. All Honda garden machines boast of an easy to start engine and the HHBE25E is no exception with its low recoil force ensuring smooth, reliable operation.

These features make the Honda HHBE25E an obvious alternative for anybody who likes the features found in Stihl's BG86 without the hassle of dealing with two-stroke
Backpack Blowers
For larger gardens or for individuals with a preference for comfort a handheld machine can start to feel like a bit of a dead weight. For increased comfort or power, you may wish to consider a backpack blower.
If you are looking specifically for something lightweight then the best starting point is the Stihl BR200. Extremely lightweight and easy to use the BR200 weighs a mere 5.8kg and sits comfortably on the shoulders via the soft ergonomic harness which distributes the weight evenly across the user's shoulders, back and hips. An optional chest belt can also be purchased for improved weight distribution and comfort.
Although the BR200 is slightly less powerful than Stihl's BG86 handheld blower, the difference is negligible and the air speed is still more than adequate for mid-sized gardens.
For those seeking comfort and power there are a handful of "bigger brothers" to Stihl's BR200.
The Stihl BR500 for example is a professional quality machine at a domestic price. Whilst the BR500 is understandably heavier than the BR200 by some 4kg it is as you would expect, a much more powerful machine, providing air speed of 81m/s. Powerful as it is, the BR500 has been designed for use in noise-sensitive areas as the built-in sound dampener reduces noise by up to 59% when compared to an equivalent model. Moreover, the BR500 also features the ergonomic harness and anti-vibration system found in the BR200 making it the perfect choice for anybody with a large amount of leaves to clear.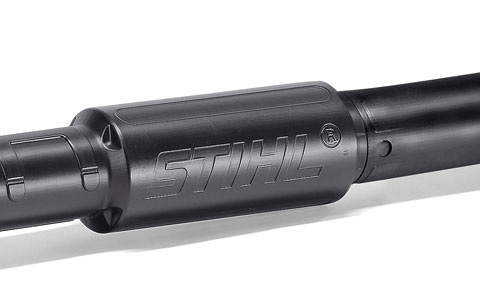 Leaf Vacuums
Conventional leaf blowers (as the name suggests) only blow the leaves into one place. Unless you have blown them into your neighbour's garden (Note: we do NOT recommend this!) you will then need to bag up and dispose of your leaves.
The most efficient way to collect and dispose of your leaves is with a leaf vacuum.
The Stihl SH86 C-E is by far the most popular handheld leaf vacuum on offer. Ostensibly the same machine as Stihl's BG86 blower with all the same functions and accessories with the added bonus of being able to function as both a blower and a vacuum.
When vacuuming the blower is essentially reversed with the air intake manifold converting to the suction tube and the air output tube connecting to the collection bag. Collection is further aided by the inclusion of a metal impeller which is designed to mulch up the leaves as they are vacuumed effectively increasing the volume of leaves that can be collected before the bag will need to be emptied.

Handheld leaf vacuums are great for smaller areas however for superlative leaf collection on a larger area nothing compares to the suction capabilities of a Billy Goat pedestrian leaf vacuum.

Whichever method of leaf collection you prefer you can rest assured that we have the perfect machine for the job ahead of you. We hope you have found this overview useful – if you need further help deciding on the right machine for you and your garden please do give us a call and we'll always be happy to help.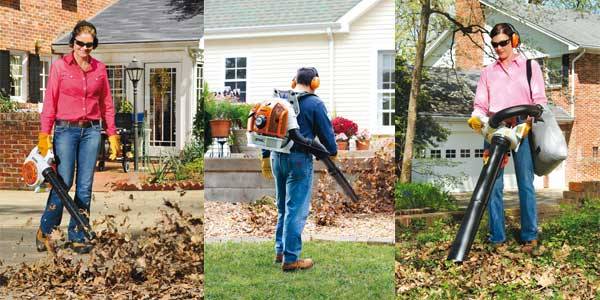 Please do follow us on Facebook to stay up to date with all our future blog posts, tips and product information.