EGO BATTERY POWER TOOLS
The EGO LM2014E-SP LAWN MOWER 50CM

Significantly quieter than a petrol mower and with far lower service costs and zero emissions during use, the 50cm EGO Power+ mower features a hard wearing steel deck with a large cutting capacity. This lets you comfortably tackle any lawn in less passes, while the large capacity bag needs emptying less often. The variable speed self-propel motor keeps you in control as you cut. Plus on a single charge our battery gives you up to 35 minutes run time. Automatic Variable Speed on selected models, delivers optimal cutting speed to maximise battery run time whilst maintaining grass cutting performance. The 3-in-1 functionality lets you bag, mulch or side discharge clippings while the LED headlights let you work further into the day. And when you're done, the easy-fold design makes cleaning and storage simple.

1Variable speed self propel: Allows you to cut at a speed that suits you
45 - Minute Charge time with the EGO Rapid Charger : Industry's fastest charger
Up To 35 -Minute Cut Time with a 6.0Ah battery
Folds Flat In Seconds: Convenient storing and cleaning
50cm Cut Capacity: Reduces the number of passes required to cut your lawn
LED Headlights: For mowing anytime
High-Torque, Magnetic Motor: Designed for high power output at 3150 RPM
Convenient Push-Button Start: No more pull cord; easily starts at the press of a button
The EGO LM2001E LAWN MOWER 50CM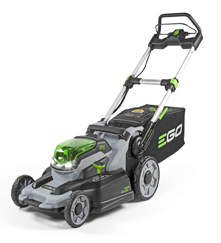 The EGO POWER+ Mower is amongst the most powerful rechargeable mowers on the market today. The 56-volt Lithium-Ion battery is the industry's first, with 40% more power than the leading 40-volt battery. The EGO POWER+ Mower delivers the performance of petrol without the noise, fuss and fumes.
The features of the EGO POWER+ Mower include: a deck, cutting size of 49cm, reducing the number of passes required to mow your lawn; true 3-in-1 function for superior performance, whether you are bagging, mulching or using the side-discharge chute; a compact, foldable design makes storing and cleaning the mower more convenient than any other; low noise and vibration. The EGO POWER+ Mower makes 20% less noise than a petrol powered mower and with almost no vibration is incredibly comfortable to use. LED headlights for mowing anytime —morning or evening.
~ ALSO IN THE RANGE ~
BLOWER - TRIMMER - HEDGE CUTTER - CHAINSAWS
ONE BATTERY FITS ALL