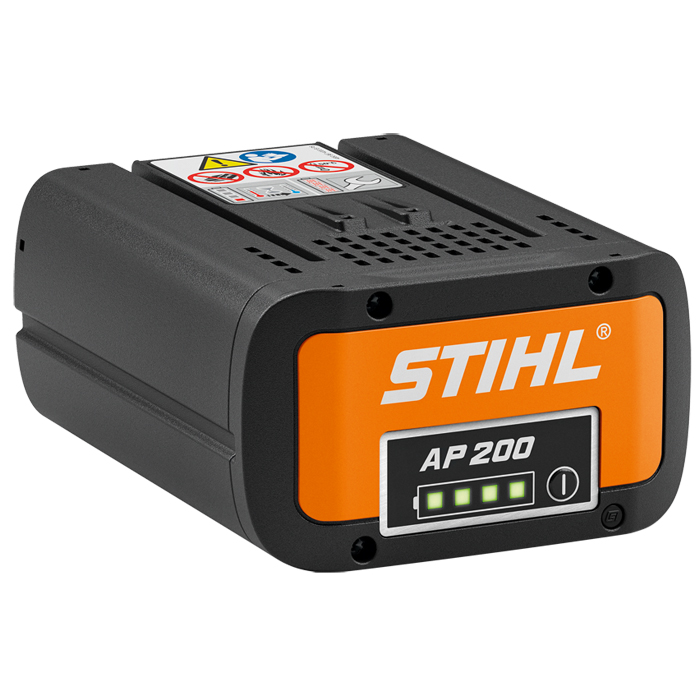 Stihl AP200 Lithium-Ion Battery
Delivery: From £10.00 Incl VAT, if ordered without a machine. See more...
Description
36 V, 4.0 ah Lithium-Ion battery. The AP 200 offers excellent run times on our cordless tools. The battery has an integrated LED charge indicator, clearly displaying as and when the battery needs charging. Compatible with the AL 100, AL 300 and AL 500 charger unit. Click on the technical data tab to learn more about individual machine run times.
Specification
Battery cell technology LITHIUM-ION PRO
Weight kg 1.3
Capacity ah 4
Battery power / capacity Wh 151
Run Times
MSA160C-B - Up to 42 mins
MSA200C-B - Up to 42 mins
MSA161T - Up to 42 mins
HTA65 - Up to 42 mins
HTA85 - Up to 42 mins
FSA65 - Up to 60 mins
FSA85 - Up to 36 mins
FSA90R - Up to 24 mins
FSA90 - Up to 36 mins
HSA66 - Up to 144 mins
HSA86 - Up to 144 mins
HLA65 - Up to 144 mins
HLA85 - Up to 144 mins
BGA85 - Up to 19 mins
KGA770 - Up to 168 mins
TSA230 - Up to 14 mins
RMA443C - Up to 420 m2
RMA443TC - Up to 420 m2
RMA448TC - Up to 450 m2
RMA2RT - Up to 420 m2
Charge Times
AL101 - 150 mins to 80% / 200 mins to 100%
AL300 - 40 mins to 80% / 55 mins to 100%
AL500 - 30 mins to 80% / 45 mins to 100%
Free Delivery
to UK Mainland
Dedicated
Spares Department