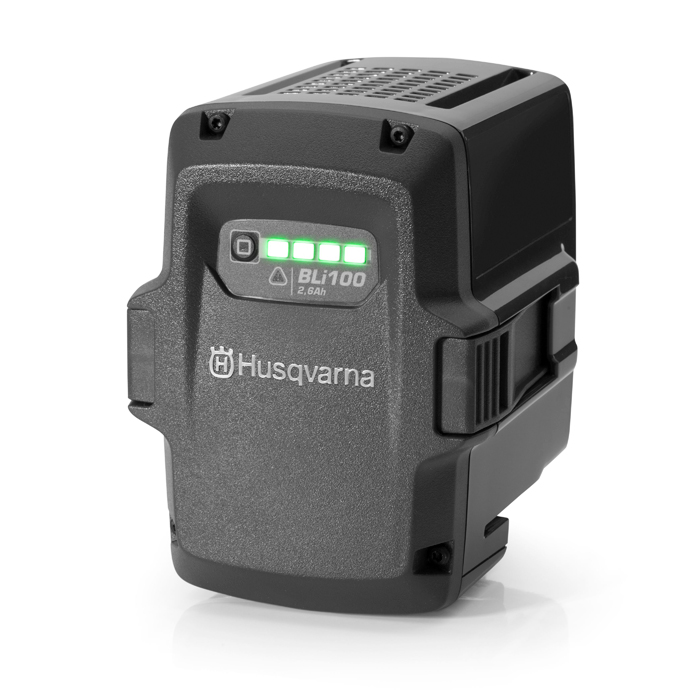 Husqvarna BLi100 Battery
Carriage:

Delivery from £10.00 if ordered without a machine, to check please c

all or

click here for more information...
Description
ntegrated pro-battery with very low weight, designed to work in all weather conditions. Robust construction enables up to 1500 recharges. Features efficient cooling and intuitive 4-LED charge indidicator.
Specification
Battery Capacity 2.6 Ah
Battery Type Lithium Ion
Battery Voltage 36 V
Energy 94 Wh
Weight 0.9kg
Run Times:
535iXP Chainsaw - Up to 90 mins
T535iXP Chainsaw - Up to 60 mins
530iPT5 Pole Saw - Up to 50 mins
530iP4 Pole Saw - Up to 50 mins
315iC Grass Trimmer - Up to 30 mins
520iRX Brushcutter - Up to 40 mins
520iLX Brushcutter - Up to 40 mins
520iHE3 Hedge Cutter - Up to 60 mins
520iHD60 Hedge Cutter - Up to 60 mins
520iHD70 Hedge Cutter - Up to 60 mins
320iB Blower - Up to 20 mins
525iB Blower - Up to 20 mins
530iBX Blower - Up to 20 mins
Dedicated
Spares Department