Husqvarna 525RjX Brushcutter
PDI: This machine will be supplied fully PDI'd as per the manufacturers specifications. See more...
Delivery: Free delivery to the UK mainland (Except Scottish Highlands and islands). See more...

Description
Efficient and easy to use brushcutter with J handle that allows you to use both trimmer line and grass blade. Has the lowest vibration rates in its class.
Features
Fuel pump - Fuel pump designed for easy starting.
Smart Start® - The engine and starter have been designed so the machine starts quickly with minimum effort. Resistance in the starter cord is reduced by up to 40%.
Combi-guard - The cutting attachment combi-guard can be used with either a grass blade or a trimmer head.
Grass bevel gear - Bevel gear designed with high torque and the cutting equipment parallell to the ground for best cutting performance
Auto return stop switch - Stop switch automatically resets to the ON position for trouble-free starting.
Tap 'n Go trimmer head - Twin line cutting system with Tap 'n Go for quick line feed.
Intuitive controls - The choke and purge are easy to reach and understand.
X-Torq® engine - The X-Torq® engine design increases torque over a wider rpm range providing maximum cutting power.
Comfort handle - Soft-grip handles for optimum comfort.
J-handle - Equipped with J-handle for greater versatility.
Standard single harness -Standard harness for lighter brushcutters
Specification
Model 525RjX
Cylinder Displacement 25.4cm3
Power Output 1kW
Maxiumum Power Speed 8500rpm
Fuel Tank Volume 0.51L
Fuel Consumption 600g/kWh
Spark Plug NGK BPMR8Y
Electrode Gap 0.65mm / 0.03"
Vibration Level (L/R) 2.1/1.9m/s2
Sound Pressure at ear 94dB(A)
Sound Pressure Guaranteed 106dB(A)
Gear Ratio 13:19
Drive Gear Angle 60o
Equipment Type OEM Trimmer Head - T35 M10 / OEM Grass Blade - Grass 255-4 / OEM Harness - Single Harness
Weight (Excl Cutting Equip) 4.5kg
Warranty 2 Years
Accessories
Replacement Nylon Cord
2 stroke oil 1 Litre bottle
Fuel Mixing Bottle - Complete with 25/1, 32/1, 40/1 & 50/1 mixing ratios. (50/1 required on this machine)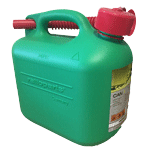 5 Litre fuel can
Fuel Fit - Fuel stabiliser additive for petrol engines. Protects your engine against harmful impact of ethanol blended petrol.
Free Delivery
to UK Mainland
Dedicated
Spares Department