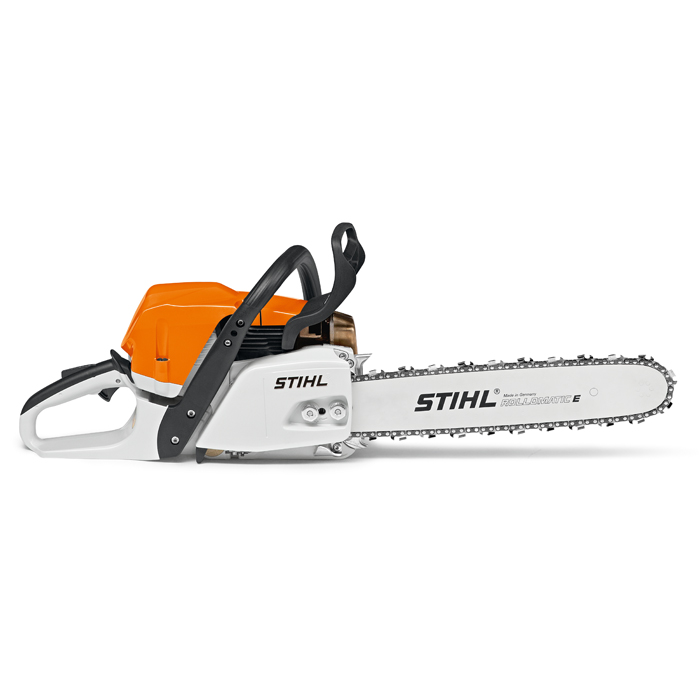 Stihl MS362C-M 18" Chainsaw
Delivery: Free delivery to UK Mainland (except Scottish Highlands or Islands). See more...
Power: 2-Stroke Petrol
Description
Robust and powerful, everyday forestry chainsaw, designed and built for the professional. Ideal for long sawing sessions harvesting wood. With 2-MIX engine and M-Tronic technology. The electronic self-tuning engine management system means that the fuel supply is electronically controlled and the machine automatically adapts to operating and ambient conditions, ensuring optimal engine performance every time. The memory function remembers previous operating conditions and allows you to restart quickly after an extended break. With easy-clean HD2 filter, controlled-delivery oil pump and practical features such as a stainless steel muffler, captive nuts on the sprocket cover and monocoque cover with three quick release fasteners. The 2-MIX technology in the innovative STIHL MS 362 C-M ensures up to 20% less fuel consumption and up to 50% emissions reduction compared to the same power STIHL two-stroke engines without 2-MIX technology.
Features
Combi lever - As M-Tronic has electronic cold and warm start recognition, only one start position is needed on the combi lever. The exact amount of fuel is supplied on demand. You do not need to know about the status of your chainsaw and can apply full throttle straight away - even with a cold start. Because the saw is warmed up by optimum acceleration in a few seconds.
Reduced-emission engine technology - 2-stroke engine with stratified charge. A fuel-free layer of air is created between the burned charge in the combustion chamber and the fresh charge in the crankcase, reducing the amount of fuel lost during the charge cycle. This results in more power with a lower weight, up to 20% lower fuel consumption than regular 2-stroke engines and significantly reduced exhaust emissions.
STIHL M-Tronic (M) - This fully electronic engine management system adjusts ignition timing and fuel metering in all operating modes. It also takes external conditions such as temperature, altitude and fuel quality into account. It ensures consistent engine performance, a constant maximum speed and superb acceleration. M-Tronic makes manual carburettor adjustments unnecessary. Thanks to electronic cold/warm start recognition, now there is only one start position on the combi-lever. The engine starts after fewer pulls and with no change of position, and can immediately accelerate up to speed - even after a cold start. M-Tronic also remembers the settings from the last time the tool was used. So when external conditions are the same, optimal engine performance is available every time you start up again.
Advanced combustion technology - Four overflow channels swirl the fuel-air mix before ignition, allowing for optimum combustion and highly efficient performance. The result is lower fuel consumption and high torque across a broad rpm range.
Compensator - This controller in the carburettor prevents the fuel-air mixture getting richer as the air filter becomes clogged. The correct quantity of fuel is delivered to the carburettor depending on the quantity of air passing through the air filter. This keeps the fuel/air ratio in the combustion mixture constant and hence also the engine power. The filter doesn't need to be cleaned until an appreciable drop in power occurs.
HD2 filter - The HD2 filter is made from polyethylene filter material with up to 70% finer pores than fleece and polyamide filters to trap even very fine dust. In addition, it is oil and water-repellent and thus very easy to clean. The PET-covered filter cartridge with quick-release lock enables the filter to be assembled and disassembled in next to no time, without using tools.
Anti-vibration system - Intense vibration at the handles of power tools can lead to long-term effects on blood vessels in the hands and arms. STIHL has therefore developed an effective anti-vibration system whereby the oscillations from the machine's engine are dampened which significantly reduces vibrations at the handles.
Decompression valve - The decompression valve is part of the easy starting system. The valve should be pressed before starting to reduce the compression pressure when starting, as well as reducing the effort needed to pull the starter rope. The decompression valve is semi-automatic; it must be pressed manually before starting, but then closes automatically.
Pre-separation air filtration system - STIHL long-life air filtration systems with pre-separation achieve perceptibly longer filter life compared with conventional filter systems. Air drawn in is swirled. The larger, heavier particles are ejected. The pre-cleaned air is routed to the air filter via the pre-separator duct.
Captive nuts - When changing the cutting attachment, you will not risk losing the nuts on the sprocket.
Ematic chain lubrication system - The Ematic chain lubrication system ensures pinpoint lubrication of the saw chain links and guide bar rails. When used with STIHL OILOMATIC saw chain, it will provide maximum lubrication, longer wear and less oil consumption than conventional methods of chain lubrication. The Ematic system can reduce bar oil consumption by up to 50%.
Single-lever master control - All important functions such as start, choke, throttle and stop are operated via a single lever.
Side chain tensioner - The tensioning screw can be found on the side of the chain saw through the sprocket cover. This removes the need for contact with the sharp saw chain.
STIHL ElastoStart - STIHL ElastoStart reduces the shock caused by the compression of the engine during starting. The compression shock is taken away from the user's joints and muscles through a spring or rubber element in the starter handle.
Tool free filler caps - Special catches on the fuel and oil tanks for easy opening and locking without the need for tools.
Specification
Model MS362 C-M
Bar Length 18" (45cm)
Displacement 59cm3
Power Output 3.5kW
Weight 5.8kg
Power-to-weight ratio 1.7kg/kw
Sound Pressure Level 105dB(A)
Sound Power Level 117dB(A)
Vibration Values (L/R) 3.5/3.5m/s2
STIHL Oilomatic saw chain pitch/type 3/8" RS
Warranty 2 Years
Accessories
Briggs & Stratton Fuel Fit:
Treats 10L of fresh fuel. For more info click here...

2 Stroke Oils:
For options of 2-stoke oils click here...
Chainsaw Oils:
For options of chainsaw oils click here...
Free Delivery
to UK Mainland
Dedicated
Spares Department