Echo HC-1501 Hedge Cutter
PDI: This machine will be supplied fully PDI'd as per the manufacturers specifications. See more...
Delivery: Free delivery to the UK mainland (Except Scottish Highlands and islands). See more...

Description
The HC-1501 is a 21.2cc twin blade hedge cutter. It features laser cut double reciprocating blades for long lasting sharpness, and has an effective cutting length of 499mm.

It is lightweight and extremely well balanced, ideal for homeowners and light-use professionals. A superior directional exhaust protects both the user and the hedge from hot exhaust gases, preventing scorching and discolouration of the foliage. A vertical fuel filler neck allows for easier refuelling.
Features
21.2CC PREMIUM GRADE ECHO® ENGINE - Ensures superior performance, durability and reliability
DOUBLE RECIPROCATING BLADES - Laser cut, precision ground, double reciprocating blades for long lasting sharpness and a cleaner cut. 35mm blade pitch means a variety of different hedges can be tackled
FRONT EXHAUST PIPE - Superior exhaust system means exhaust emissions are directed away from user. This also prevents scorching and discolouration of the hedge
VERTICAL FUEL FILLER NECK - Enables easier re-fuelling
3/4-LENGTH BLADE GUARD - Protects user from accidental contact with blades
TOOL-FREE ACCESS TO AIR FILTER - Easy access to air filter, even when wearing gloves
WARRANTY - ECHO power tools come with a five year domestic warranty or a two year warranty in professional use (registration of ECHO products and servicing are necessary to validate the warranty)
Specification
Model HC1501
Engine Displacement 21.2cc
Dry Weight 4.9kg
Output 0.58kW
Effiective Cutter Length 19.5" (50cm)
Fuel Tank Capacity 0.46L
Blade Layout Double
Vibration 8.9m/s2
Warranty 5 Year Domestic & 2 Year Professional
Accessories
2 stroke oil 1 Litre bottle
Fuel Mixing Bottle - Complete with 25/1, 32/1, 40/1 & 50/1 mixing ratios. (50/1 required on this machine)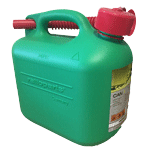 5 Litre fuel can
Fuel Fit - Fuel stabiliser additive for petrol engines. Protects your engine against harmful impact of ethanol blended petrol.
Free Delivery
to UK Mainland
Dedicated
Spares Department