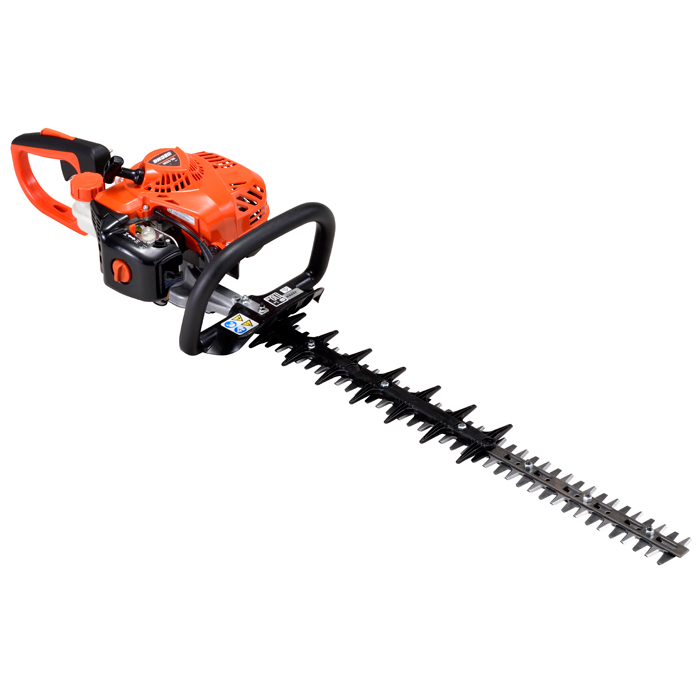 Low Emission 21.2cc Premium Grage Echo Engine - Ensures superior performance, durability and reliability
Two Edge Cutting Blades - Double-edged Japanese cutter blades for long lasting sharpness and smooth trimming. 35mm blade pitch means a variety of different hedges can be tackled
Wide Pitch Blunt - For superior cutting performance and protects the user from accidental contact with blades
Vertical Fuel Filler Neck - Enables easier re-fuelling
Tool-free access to air filter - Easy access to air filter, even when wearing gloves
Warranty - ECHO power tools come with a five year domestic warranty or a two year warranty in professional use (registration of ECHO products and servicing are necessary to validate the warranty)
Echo HC-2320 25" Hedge Cutter
Availability: Sorry, Currently Out of Stock
Carriage:

Free of charge delivery to UK Mainland, this does exclude Islands and the Scottish Highlands, to check please c

all or

click here for more information...
Power:

2-Stroke Petrol
Description
ECHO's HC-2320 is an extra long, double blade hedge cutter with a low emission 21.2cc professional grade engine. It features longer, heavy duty blades for long lasting sharpness when tackling taller, larger hedges, and has an effective cutter length of 639mm.
The HC-2320's air filter has easy, tool-free access, while the large vertical filler neck enables easier re-fuelling. Exhaust emissions are reduced with this 21.2cc engine. The double reciprocating blades provide a cleaner cut and the blades are self-sharpening because of the action of the teeth.
Specification
Model HC2320
Engine Displacement 21.2cc
Dry Weight 4.6kg
Output 0.6kW
Effiective Cutter Length 25" (63.9cm)
Fuel Tank Capacity 0.39L
Blade Layout Double
Warranty 5 Year Domestic & 2 Year Professional
Accessories

2 Stroke Oils:
For options of 2-stoke oils click here...
Resin Solvent:
For options of resin solvents click here...
Gear Box Grease:
For options of greases click here...
Dedicated
Spares Department