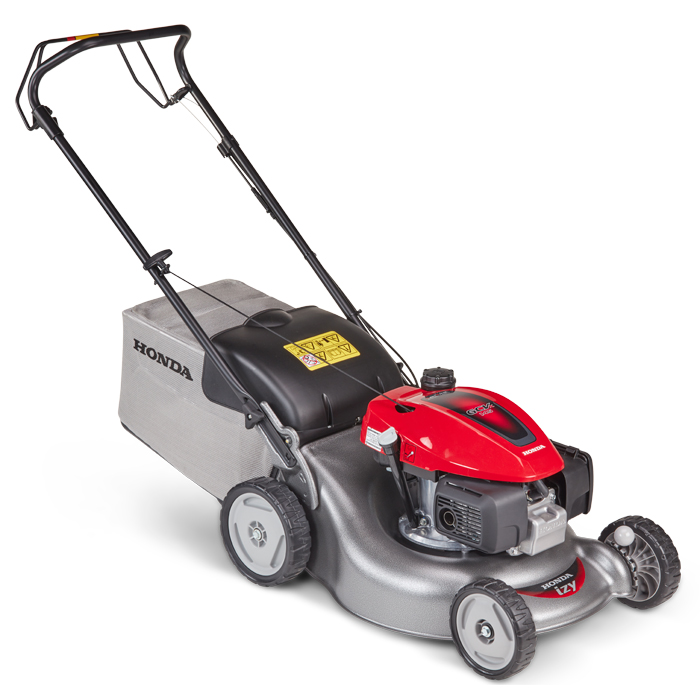 Honda HRG466SK 18" Mower
Carriage:

Free of charge delivery to UK Mainland, this does exclude Islands and the Scottish Highlands, to check please c

all or

click here for more information...
Power:

4-Stroke Petrol
Free 1 Litre of WGM 10W40 Oil with this machine
Description
Honda Izy HRG 466 SK Four Wheeled Mower
As a global engineering concern, the Honda name has long been synonymous with innovation and excellence across a range of industries. It was only natural, when they took the decision to expand into the garden machinery market, that they would apply the same rigorous design and quality control processes that has made their cars, bikes, and generators a byword for reliability. Over the past 45 years Honda mowers have developed an unrivalled reputation for build quality and longevity - many of their mowers still going strong after 20 years of service.
The Izy HRG466SK is an 18 inch (46cm) self-propelled rotary lawnmower. By removing the necessity to manually push the mower the HRG466SK offers effortless operation at a comfortable walking pace, ensuring optimum cutting quality even when moving across uneven ground and slopes.
The HRG466SK, like all of the mowers in the Honda Izy range, comes with the "Easy Start" GCVx 145 OHC (overhead cam) four stroke engine. The advanced auto-choke system prevents flooding ensuring that the HRG466SK really is easy to start in all weather conditions.
The HRG466SK is surprisingly light and agile making it the ideal choice for small to medium sized gardens. With the addition of the simple folding handle the HRG466SK can be easily stored even in small sheds and can fit into the boot space of most cars with very little effort.
Versatility is something Honda endeavours to offer with all of their lawn-care products and the Izy range is no exception. With 6 different cutting height settings from 20mm to 74mm the HRG466SK can tackle longer grass with relative ease.
When faced with long or wet grass, the height adjustment can be changed via levers at the front and rear of the cutting deck allowing the back of the deck to be raised independently from the front, increasing airflow into the collection bag and optimising the mower's collection capability. Collection is further aided by the inclusion of the generous 55 litre fine meshed grass bag which has been expertly designed to work in conjunction with the cutting deck to maximise airflow whilst effectively containing dust and fine particles ensuring both comfort and efficiency.
The cutting deck is reassuringly robust having been produced from shock resistant pressed steel which has undergone a special anti-corrosive electrophoresis treatment – this treatment increases the deck's resistance to UV rays and deterioration from corrosion. Durability is further ensured through Honda's innovative design of the cutting blades which have been designed to bend rather than break in the event that an obstacle is hit. This greatly reduces the likelihood of damage to the machine should such an incident occur. With the inclusion of a 5 year domestic warranty you can rest assured that Honda are confident that their mowers will provide many years of dependable service.
Features
More Power - Honda engines have high performance, top fuel-efficiency and very low maintenance. These engines are perfect for IZY lawnmowers and with a recoil grip made from a soft material they are so easy to start. Complex gardens, where you need maximum manoeuvrability without sacrificing power, are managed with minimum effort.
Improved recoil grip - Soft material for a comfortable and easy start.
High air flow grass bag - Specific R&D design to maximise the air flow going through the grass bag for improved collecting performance, with a fine mesh to contain any dust.
Smart Blade Material - Designed to twist rather than break on hitting an obtacle, the smart blade means lower running costs and longer life.
Pressed steel cutter deck - Resistant to shock and cataphoresis treated, to prevent rust, UV abrasion and corrosion. painted in an ecological powder painting process.
Auto Choke - All of our products are powered by world class Honda engines so you can be assured of reliable starting and low maintenance. All of our lawnmowers run on unleaded petrol.
Low noise - Our R&D team have designed a patented low noise blade (-0.5dB(A)) compared to traditional blades. With a combination of engine and cutter deck design, its noise level is 30% under the current EU standard.
Specification
Type Izy Lawnmower
Cutting Width 18" / 46cm
Cutting Heights (mm) 20-74
Cutting Height Adjustment 6 positions
Drive Self-propelled
Grass Bag Capacity (Litres) 50 L
Engine GCVx 145
Safety Breaking Flywheel Brake
Cutter Deck Material Steel
Dry Weight (Kgs) 31
Starter Mechanism Fix throttle type auto choke
Handle Folding Yes
Noise Value (dB(A)) 94
Vibration (m/sec2) 3.0
Garden Size Compact to Medium (No larger than a tennis court)
Warranty 5 years (Click here for Honda warranty T&Cs)
Accessories
Dedicated
Spares Department