Honda HRX 476 QX Rear Roller Mower
RRP is
£1070.00
(Inc VAT)
PDI: This machine will be supplied fully PDI'd as per the manufacturers specifications. See more...
Delivery: Free delivery to the UK mainland (Except Scottish Highlands and islands). See more...
Free 1 Litre of WGM 10W40 Oil with this machine
Description
Honda HRX 476 QX Rear Roller Mower
As a global engineering concern, the Honda name has long been synonymous with innovation and excellence across a range of industries. It was only natural then that, when they took the decision to expand into the garden machinery market, that they would apply the same rigorous design and quality control processes that has made their cars, bikes, and generators a byword for reliability. Over the past 45 years Honda mowers have developed an unrivalled reputation for build quality and longevity – many of their mowers still going strong after 20 years of service. This commitment to excellence is ably demonstrated in the Honda HRX476QX.
The HRX476QX, part of Honda's Core range, is the larger of their Polystrong® decked rear roller mowers. With a cutting deck of 19" (approx. 47cm) the HRX476QX is perfect for lawns up to about the size of a tennis court. Powered by Honda's popular GVC160 Overhead Cam four-stroke engine which combines smooth power with ease of starting, the HRX476QX is self-propelled with the drive provided by the steel rear roller. As well as propelling the mower forward, the roller applies the classic English style stripe effect to your lawn and, just as importantly, allows you to mow up to the edge of the lawn without the danger of dropping the rear wheel into the border and scalping the grass. An often overlooked benefit of the rear roller is that growing grass causes the soil around it to lift, creating an uneven lawn. The application of the heavy steel roller acts to firm the soil down and help reduce this unevenness.
The HRX476QX, as one of Honda's premium mowers comes with a number of features not found on their entry level Izy range. Perhaps the most useful of these features is Honda's Roto-Stop® blade brake mechanism. This stops the blades without stopping the engine which means that you can empty the grass bag or reposition the mower without having to restart the mower each time. In addition the HRX476QX has an immensely strong thermoplastic cutting deck which is impact and corrosion resistant and, unlike cheaper plastic decks, will not become brittle with exposure to sunlight, while the Honda blade is designed to twist rather than break if it hits a rock so it stays in one piece and will not damage the mower.
Cutting height adjustment is via a single rear mounted lever with five positions from 19mm-55mm and the handles fold quickly and easily for storage.
Click here for Honda warranty T&Cs.
With parts available next day at no extra cost (subject to an order placed by midday), the fully trained Honda dealer network are knowledgeable about your product and will minimise any inconvenience when servicing is required.
Features
Roto-stop - When you release the handle the engine continues but the blade stops - so you can leave the engine running to empty the grass bag or drive accross gravel paths with complete safety and peace of mind.
Self-propelled - The engine drives the mower forward, taking the effort out of lawncare.
Folding handle - Quick and simple folding for easy storage and transporting.
Polystrong deck - Durable and rust-proof polypropylene deck allows us to design in extra strength while reducing the overall weight.
Rear roller - Give your lawn that classic stripe. A rear roller offers greater machine balance and control when cutting around the edge of your lawn.
Easy to manoeuvre - Thanks to double ball-bearings and extra-wide no-slip wheels manoeuvrability is easier than ever.
Engine - 160cc Honda 4-stroke engine gives high power and torque with renowned durability, also the auto choke system ensures the perfect start even in cold weather.
Specification
Type HRX Lawnmower
Rear Roller (Stripe) Yes
Cutting Width 19" / 47cm
Cutting Heights 19 - 58 mm
Cutting Height Adjustment Yes - with central height adjustment
Drive Self-propelled
Grass Bag Capacity 73 L
Engine 160cc OHC 4-stroke
Safety Breaking Roto-stop®
Cutter Deck Material Polystrong®
Dry Weight 42 kg
Starter Mechanism Recoil
Noise Value 94 dB(A)
Vibration 5.6 m/sec2
Garden Size Compact to Medium (No larger than a tennis court)
Warranty 7 Years (Click here for Honda warranty T&Cs)
Accessories
Service Kit - Comprised of an air filter, spark plug & a 1ltr bottle of the correct grade of oil.
Spare Blade
1 Ltr Bottle Correct Grade of Engine Oil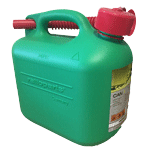 5 Litre fuel can
Fuel Fit - Fuel stabiliser additive for petrol engines. Protects your engine against harmful impact of ethanol blended petrol.
Free Delivery
to UK Mainland
Dedicated
Spares Department