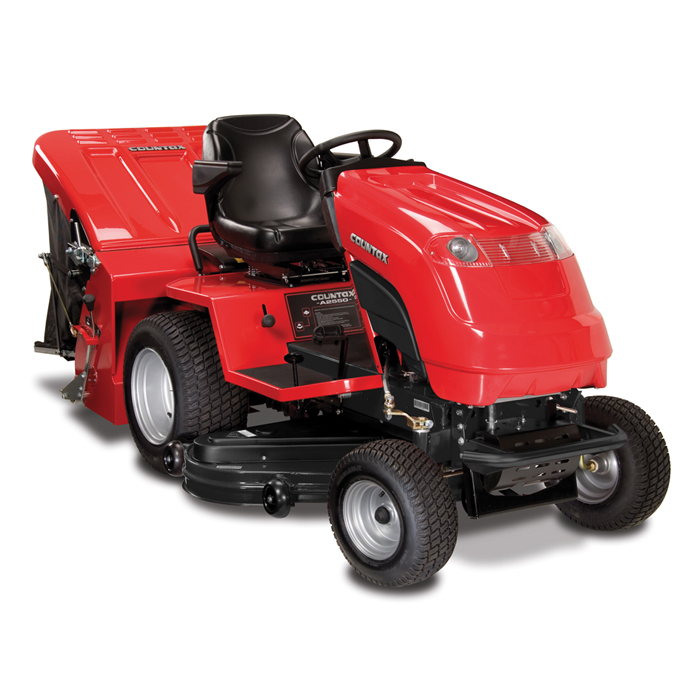 Countax A25-50HE Tractor - 42" HGM Deck & PGC
Availability: Coming Soon, Please Pre-Order
Online Sales Policy:

Countax tractors can only be delivered personally within a 50 mile radius from one of our three depots either Winchester, Windlesham or Liss. They are delivered by one of our own staff and handed over personally to the customer, complying fully with the manufacturers guidelines.
If you have any questions regarding delivery or machine handover please don't hesitate to contact us on 01962 601391.
Power:

Petrol
Description
Countax tractors are designed and made in Britain to meet the demanding conditions created by the British climate.
There is no finer tractor than a Countax lawn tractor for closely trimming and striping a fine lawn and collecting even the wettest of cuttings. A Countax tractor will also sweep leaves in the Autumn, cut longer, rougher grassed areas and tow a wide range of garden tractor attachments.
The Countax A2550HE gives you all the Countax performance advantages in a larger, more powerful Countax tractor. The Countax A2550HE boasts a larger heavy duty chassis and heavy duty transmission and has the larger 390 litre electric lift and empty collector.
Features
Kawasaki FR730V 726cc twin cylinder engine - Renowned worldwide for their reliability and performance, Kawasaki only build premium-grade engines. The FR730V is a 726cc air cooled, 4-stroke engine.
107cm (42") High Grass Mulch deck - Make short work of tall grass, brambles and nettles with Countax's heavy-duty 107cm (42") High Grass Mulch deck
Powered Grass Collector - The A Series tractor's PGC uses brushes driven by the tractor's engine to sweep the turf and collect grass cuttings, while the roller creates classic stripes. It can also clear away fallen autumn leaves.
Lightweight deck lift - The lightweight deck height selector can be adjusted through nine incremental settings to provide a cutting height of 12mm to 101mm (dependent on type of deck).
Manual power take-off - The power take-off (PTO) enables a variety of powered attachments to be run by utilising the power of the tractor's engine.
Hydrostatic transmission - The hydrostatic, foot-controlled transmission found on all Countax tractors is smooth and responsive. It is as easy to operate as the controls on an automatic car.
Park brake - The Countax park brake system is a cleverly designed safety feature. It prevents the tractor from starting unless the brake is engaged.
Noise reduction - All Countax products are designed to produce the lowest levels of noise. Not only does this make operating a Countax more comfortable, it also ensures that our products fall within the levels issued by EU noise legislation.
Operating Management System - The Operating Management System (OMS) on the A25-50HE is designed to help you get the best performance from your tractor.
Bullbar - A tough tubular bar bolted to the tractor's chassis positioned in front of the bonnet.
Paint - Painted components have surpassed 500 hours of continuous salt spray exposure without corrosion.
Adjustable seat with armrests - All Countax models feature an ergonomically designed, automotive style sliding seat for greater operator comfort and safety.
Electric lift and emptying of the PGC - The electric lift and emptying of the PGC (Powered Grass Collector) minimises time and effort. It's available as a standard fitting on the larger A25-50HE.
Differential lock - Differential lock (diff lock) is a standard feature of the A25-50HE garden tractor.
Specification
Model A25-50HE
Engine FR730V twin cylinder 726cc
Transmission Hydrostatic Foot Control
Deck 42" (107cm) HGM
Deck height settings 25-101mm
PGC Capacity 390 litres
PGC Electric Lift Standard
PGC Electric Emptying Standard
PGC+ Compatible No
Power Take-off Standard (Electric Engage)
Bull Bar Standard
OMS LED Display
Differential Lock Standard
Wheel Size (Front/Rear) 41/58cm (16"/20")
Warranty 3 Years
Accessories
Click on the below accessory for more information and to purchase it.
Dedicated
Spares Department