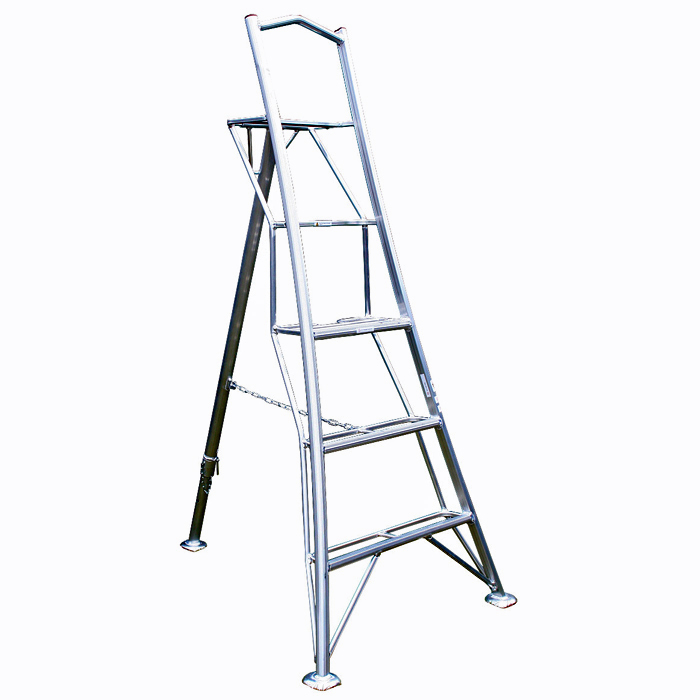 GWF180 Platform Tripod Ladder 1.8m/3 steps
Delivery: Free delivery to the UK mainland (Except Scottish Highlands and islands). See more...
* Not Exact model Pictured
Description
Our platform tripod ladder has a much deeper 175mm top working step than the standard tripod ladder. This along with a hand rail to lean into or hold onto, makes it perfect for more cautious gardners who have more or less fixed height work. It retains all the features of the standard tripod ladder, making it stable on uneven ground, providing easy access to many work situations both inside and outside the home. All the features of this platform tripod ladder make it particularly useful to those who are cautious about working with their feet off the ground.
Features
High Grade Aluminium Alloy Construction

All welded Structure

3 Legs for Stability on Uneven Ground

Telescopic 3rd Leg

Clawed Anti-slip Feet

High Strength for Low Weight

100kg Maximum Safe Working Load

Double Runged Steps

Deep 175mm Top Working Step

Top Hand Rail

Actual product may differ to images shown
Specification
Model GWF-180
Dimensions HxWxD 71" (180cm) x 35" (88.6cm) x 41.5" (105.5cm)
Back Leg + Telescopic Adj 46" (116.5cm) + 17" (43cm)
No of Steps 3
Weight 4.8kg
Max Load 100kg
Free Delivery
to UK Mainland
Dedicated
Spares Department