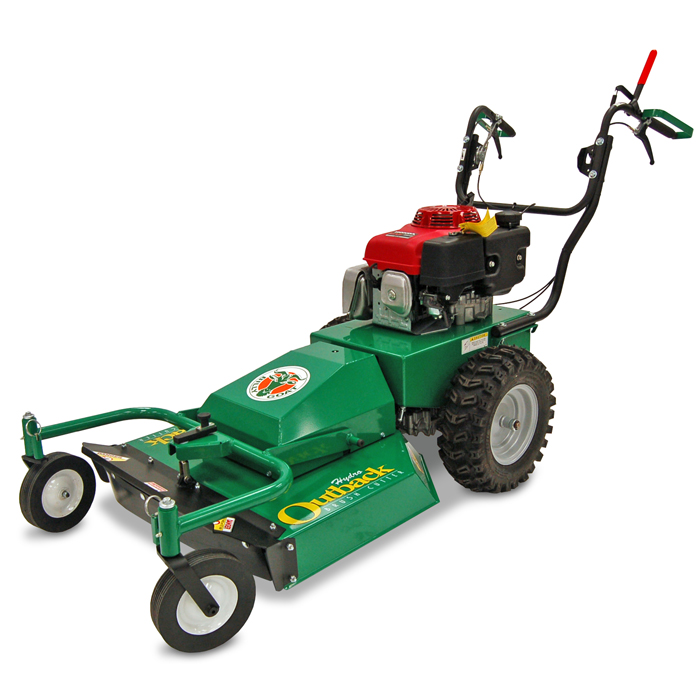 Billy Goat BC2600HHEU 26" Brushcutter
PDI: This machine will be supplied fully PDI'd as per the manufacturers specifications. See more...
Delivery: Free delivery to the UK mainland (Except Scottish Highlands and islands). See more...
Power: Petrol
Free 1 Litre of WGM 10W40 Oil with this machine
Description
The BC26HHEU has a 66 cm wide deck with higher tip speed for improved speed and cut quality. The Tuff Torq hydrostatic transmission with fully automatic Enhanced Traction Control (ETC) offers superior traction on uneven terrain and handles slopes up to 20-degrees. The pivoting brush deck hugs the ground for a better cut, minimising scalping and the cut height is adjustable from 4.5 cm to 9.5 cm.
Ergonomically-angled plow-style handles with padded grips provide comfort and protection. And direct from-the-handle forward and reverse lever, the user can operate the motion of the machine with ease.
Features
Tuff Torq Hydrostatic Transaxle - With Enhanced Traction Control is fully automatic, sensing when the rear wheel starts to spin, locking the wheel and giving it positive traction. Provides superior traction in wet or uneven conditions and eliminates loss of forward motion.
Pivoting Deck - 12 degree pivoting deck with proprietary return to neutral is engineered to glide over uneven terrain. 66 cc wide deck with higher tip speed for improved speed and cut quality.
Heavy-Duty Blade Spindle - Is reinforced on four sides to tackle any brush job. A powerful and proven design for rugged applications and demanding use.
Adjustable Height Control - Allows you to cut from 4.5 cm to 9.5 cm.
Lockable Greasable Caster Wheels - Allows the unit more mobility when being turned. Lock the caster wheels to help hold hillsides. 20.3 cm.
Intuitive Drive Controls & Handles with Padded Grips - Best in class control package allows the user to feather in forward and reverse directly from the handles - no shifting required.
Specification
Model BC2600HHEU
Engine 13hp Honda
Start Pull
Cut Width 26" (66cm)
Height Adjustment From 4.5cm - 9.5cm
Productivity 28600sq.ft/hr
Weight 154.7kg
Accessories
Free Delivery
to UK Mainland
Dedicated
Spares Department