Husqvarna 122HD60 Petrol Hedgetrimmer
PDI: This machine will be supplied fully PDI'd as per the manufacturers specifications. See more...
Delivery: Free delivery to the UK mainland (Except Scottish Highlands and islands). See more...

Description
The Husqvarna 122HD60 is a compact and lightweight petrol hedge trimmer for domestic use, with easy to use functions such as Smart Start, and the benefit of a low noise engine. With an adjustable rear handle this small hedge trimmer with 59cm blade makes easy work of cutting sides and tops of hedges.
Features
Smart Start® - The engine and starter have been designed so the machine starts quickly with minimum effort. Resistance in the starter cord is reduced by up to 40%.
Auto return stop switch - Stop switch automatically resets to the ON position for trouble-free starting.
Fuel pump - Fuel pump designed for easy starting.
Low noise - The low noise engine technology and the special design make this hedge trimmer quiet and easy to use. Very important for everyone who operates in residential areas.
LowVib® - Effective anti-vibration dampeners absorb vibration, sparing the user's arms and hands.
Long cutter bar - Long cutter bar for extended reach.
Specification
Model 122HD60
Cylinder Displacement 21.7cm3
Power Output 0.6KW
Maximum power speed 7800rpm
Fuel Tank Volume 0.3L
Fuel Consumption 575g
Idling Speed 2800rpm
Spark Plug NGK CMR6A
Electrode Gap 0.5mm
Equivalent Vibration Level (F/R) 4.1/3.6m/s2
Sound Power Level 101dB(A)
Gear Ratio 4.44:1
Knife Length 24" (61cm)
Teeth Opening 28mm
Recommended Maxiumum Twig Diameter 20mm
Cutting Speed 4050cut/min
Weight 4.9kg
Warranty 2 Years
Accessories
2 stroke oil 1 Litre bottle
Fuel Mixing Bottle - Complete with 25/1, 32/1, 40/1 & 50/1 mixing ratios. (50/1 required on this machine)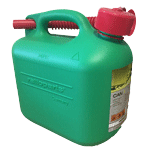 5 Litre fuel can
Fuel Fit - Fuel stabiliser additive for petrol engines. Protects your engine against harmful impact of ethanol blended petrol.
Free Delivery
to UK Mainland
Dedicated
Spares Department