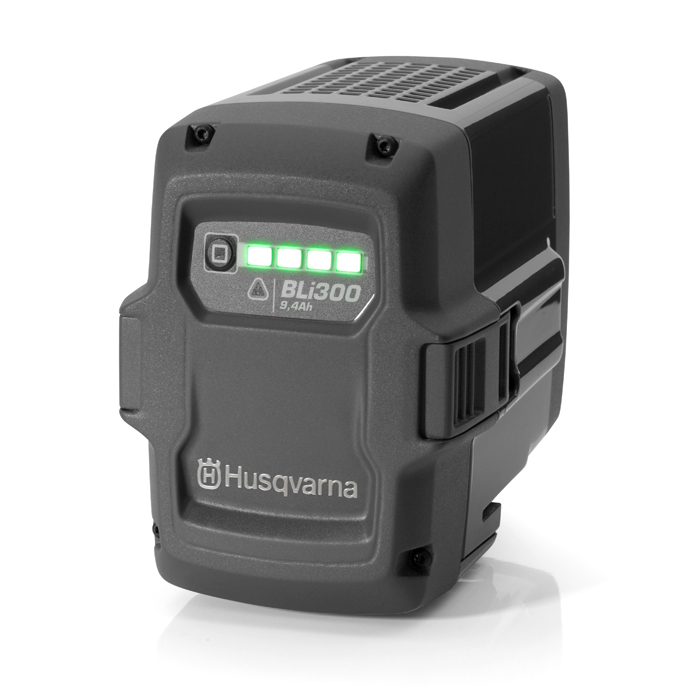 Husqvarna BLi300 Battery
Carriage:

Delivery from £10.00 if ordered without a machine, to check please c

all or

click here for more information...
Description
Integrated pro-battery with exceptionally high capacity. Designed to optimize productivity and long runtime in all weather conditions. Available in several configurations, it is an affordable way to increase uptime without having to invest in backpack batteries. Efficient cooling and intuitive 4-LED charge indicator.
Specification
Battery Capacity 9.4 Ah
Battery Type Lithium Ion
Battery Voltage 36 V
Energy 338 Wh
Weight 1.8kg
Run Times:
535iXP Chainsaw - Up to 330 mins
T535iXP Chainsaw - Up to 240 mins
530iPT5 Pole Saw - Up to 210 mins
530iP4 Pole Saw - Up to 210 mins
315iC Grass Trimmer - Up to 105 mins
520iRX Brushcutter - Up to 150 mins
520iLX Brushcutter - Up to 150 mins
520iHE3 Hedge Cutter - Up to 225 mins
520iHD60 Hedge Cutter - Up to 225 mins
520iHD70 Hedge Cutter - Up to 225 mins
320iB Blower - Up to 60 mins
525iB Blower - Up to 60 mins
530iBX Blower - Up to 60 mins
LC247iX Mower - Up to 45 mins
LC347iVX Mower - Up to 40 mins
LC353iVX Mower - Up to 35 mins
Dedicated
Spares Department