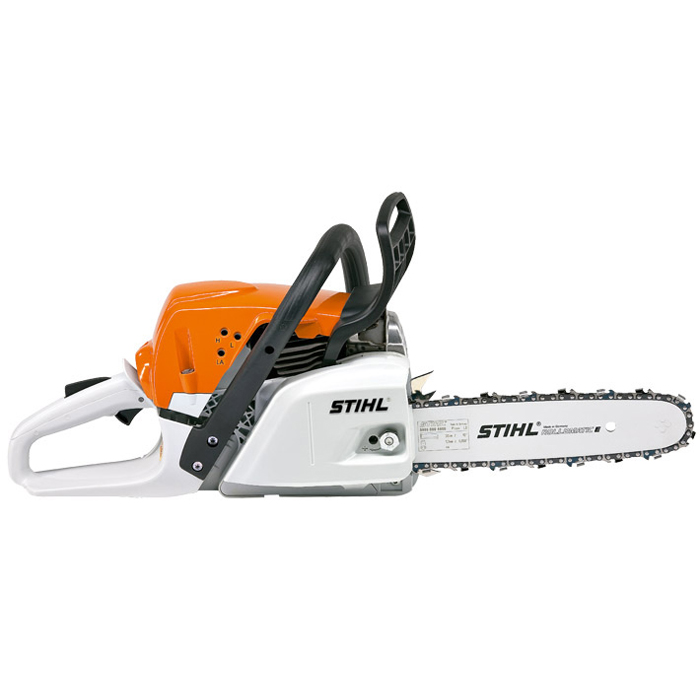 Stihl MS251 18" Chainsaw
Delivery: Free delivery to UK Mainland (except Scottish Highlands or Islands). See more...
Description
A step up from the MS 231, the MS 251 is light enough to move through smaller tasks like clearing or cleanup but packs a powerful enough punch to cut through small limbs and trees. A combination of features and a high power-to-weight ratio makes this one of the best homeowner chain saws on the market. Available with 14"/35cm, 16"/40cm or 18"/45cm guide bars.
Features
Reduced-emission engine technology - 2-stroke engine with stratified charge. A fuel-free layer of air is created between the burned charge in the combustion chamber and the fresh charge in the crankcase, reducing the amount of fuel lost during the charge cycle. This results in more power with a lower weight, up to 20% lower fuel consumption than regular 2-stroke engines and significantly reduced exhaust emissions.
Compensator - This controller in the carburettor prevents the fuel-air mixture getting richer as the air filter becomes clogged. The correct quantity of fuel is delivered to the carburettor depending on the quantity of air passing through the air filter. This keeps the fuel/air ratio in the combustion mixture constant and hence also the engine power. The filter doesn't need to be cleaned until an appreciable drop in power occurs.
Pre-separation air filtration system - STIHL long-life air filtration systems with pre-separation achieve perceptibly longer filter life compared with conventional filter systems. Air drawn in is swirled. The larger, heavier particles are ejected. The pre-cleaned air is routed to the air filter via the pre-separator duct.
Anti-vibration system - Intense vibration at the handles of power tools can lead to long-term effects on blood vessels in the hands and arms. STIHL has therefore developed an effective anti-vibration system whereby the oscillations from the machine's engine are dampened which significantly reduces vibrations at the handles.
Ematic chain lubrication system - The Ematic chain lubrication system ensures pinpoint lubrication of the saw chain links and guide bar rails. When used with STIHL OILOMATIC saw chain, it will provide maximum lubrication, longer wear and less oil consumption than conventional methods of chain lubrication. The Ematic system can reduce bar oil consumption by up to 50%.
Single-lever master control - All important functions such as start, choke, throttle and stop are operated via a single lever.
Side chain tensioner - The tensioning screw can be found on the side of the chain saw through the sprocket cover. This removes the need for contact with the sharp saw chain.
Tool free filler caps - Special catches on the fuel and oil tanks for easy opening and locking without the need for tools.
Specification
Model MS251
Bar Length 18" (46cm)
Displacement 45.6cm3
Power Output 2.2kW
Weight 4.9kg
Power-to-weight ratio 2.2kg/kw
Sound Pressure Level 102dB(A)
Sound Power Level 113dB(A)
Vibration Values (L/R) 3.9/3.9m/s2
STIHL Oilomatic saw chain pitch/type .325" RM
Warranty 2 Years
$Field;U_Videos$
Accessories
Briggs & Stratton Fuel Fit:
Treats 10L of fresh fuel. For more info click here...

2 Stroke Oils:
For options of 2-stoke oils click here...
Chainsaw Oils:
For options of chainsaw oils click here...
Free Delivery
to UK Mainland
Dedicated
Spares Department