Which Honda Lawnmower is Best?
23rd May 2023
Honda is a well-known brand for lawnmowers, and they offer a wide variety of models to choose from. This can make it difficult to decide which one is right for you. In this article, we will take a look at the Honda range, as well as choose our top 5 Honda lawnmowers and discuss their features and benefits. We will also provide some tips on how to choose the right lawnmower for your needs.
The history of Honda Lawn & Garden
The HR21, Honda's first walk-behind lawn mower, was released in overseas markets, including the United States, in August 1978. The high-quality lawnmower with a vertical engine, which allowed for quiet operation and substantially easier starting, was praised for its performance, safety, and longevity. Honda boasted total sales of 330,000 units per year by 1985, when sister models were introduced. Sales were robust from the beginning and grew steadily. These strong sales saw a huge growth in Honda Power & Lawn & Garden products, and also gave birth to a worldwide dealer network.
All of Honda's power products use four-stroke engines because they offer cleaner exhaust emissions, improved fuel economy, and reduced noise levels. Prior to the introduction of Honda's models, it was believed that only 2-stroke engines could power ultra compact, portable products. Nevertheless, innovative Honda technology facilitated the creation of 4-stroke engines for these applications as well. In regards to the future, only one thing is certain. Whatever new technologies are created and whatever possibilities are realised, Honda will be at the forefront of innovation.
Our parent company, Winchester Garden Machinery, is one the UK's largest Honda dealerships for Lawn & Garden and we supply the full Honda range, as well as full spares and repairs backup.
How to Choose the Right Honda Lawnmower
When choosing a Honda lawnmower, there are a few things you need to consider, including:
The size of your lawn - Small gardens can be tackled with the mowers in the 16-18" deck sizes, while bigger spaces will want a bigger deck from the 19-21" size.
The type of grass you have - Longer, thicker grass with better growing conditions will want a more powerful engine.
The features you want - Consider Roto-Stop technology, a Rear Roller, Versamow, Self Propelled drive and more.
Your budget - Honda mowers range from £340 up to over £2000.
Once you have considered these factors, you can start narrowing down your choices. If you have a small lawn, you may want to consider a smaller, lighter model from the hugely popular Honda Izy range. For more frequent cutting, you will need a bigger, more powerful model. If you want to create a striped finish, you will need a model with a rear roller.
The Features on Honda Lawnmowers
The below images show the standard features across the Honda range. Each machine features a powerful but quiet engine, robust cutting deck for durability & Auto-choke for optimum running performance. The noise levels are also regulated to EU standard levels.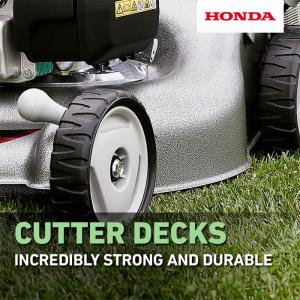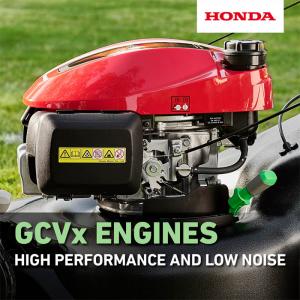 Some of the Honda range then have more specific features, depending on what you are looking for: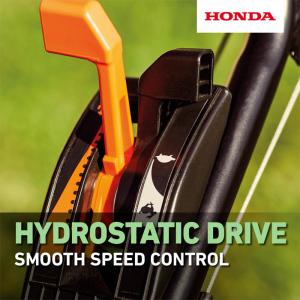 Roto-stop is a feature which allows you to stop the mower blades without turning off the engine of the machine. This can be useful if you are cutting an area divided by pathways or driveways and want to avoid any possible blade damage. You can find this feature on the HRX537HY & HRX537HZ Honda Mowers for example.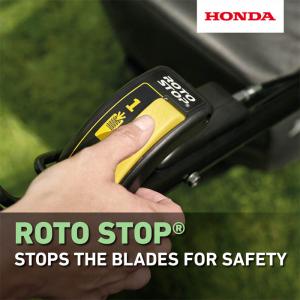 Honda Versamow is a feature allowing you to choose between collection or mulching on your machine. With different configurations, ranging from complete collection to complete mulching, you have precise control over the quantity of grass clippings that you deem optimal for fertilising your lawn. Versamow can be found on the HRN536VK or HRX476HY for example.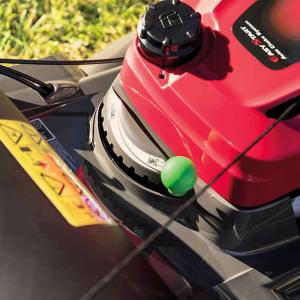 The Honda HRX537HZ has an Electric Start system. A Honda Lawnmower equipped with this feature have an electric key-start, as well as a backup traditional recoil starting cord in-case the battery is ever flat.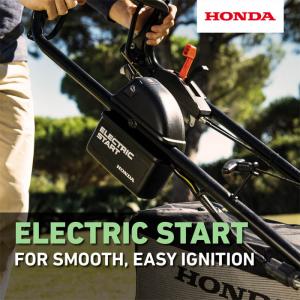 Our top 5 Honda Lawnmowers
Honda's entry-level push lawnmower, the Izy HRG416PK is remarkably light and manoeuvrable at only 29 kilograms, making it the ideal choice for small to medium-sized gardens. With the addition of the simple folding handle, the HRG416PK can be easily stowed in small sheds and fits into the boot of the majority of vehicles with minimal effort. With a sleek 16" deck and variable height cutting deck, this model is perfect for domestic use.
With similar features to the 416PK above, the 466SK is a larger deck model with the added benefit of a single-speed self propelled drive. With an 18" deck and pressed-steel deck, it is perfect for lawns up to 1,200m². The Honda Izy Lawnmower range also have easier-to-access service parts such as the spark plug, air filter and a larger filler cap than previous models.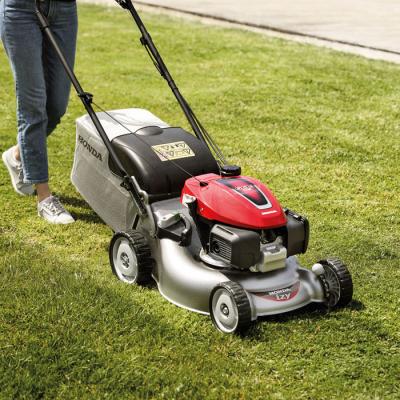 The HRX476QY is an evolution of the HRX476QX and is equipped with Honda's innovative new 167cc OHV GCVX170 Engine. This engine is more compact, lighter, and contains fewer moving elements than its predecessor. The 19" (approximately 47cm) cutting surface of the HRX476QY is ideal for lawns up to the size of a tennis court. The HRX476QY is self-propelled, with the steel rear roller providing the propulsion. In addition to propelling the mower forward, the roller applies the classic English stripe effect to your lawn and, more significantly, allows you to mow up to the lawn's edge without risking dropping the rear wheel into the border and scalping the grass. Growing grass causes the soil around it to rise, resulting in an irregular lawn, which is an often-overlooked benefit of the rear roller. The application of the hefty steel roller helps to compact the soil and reduce its irregularity.
As one of Honda's premium mowers, the HRX476QY includes a number of features not found on the above Izy range. Among these features, Honda's Roto-Stop® blade brake mechanism may be the most useful. This disables the blades without shutting down the engine, allowing you to unload the grass bag or re-position the mower without having to restart it each time. In addition, the HRX476QY has an incredibly durable thermoplastic cutting deck that is impact and corrosion resistant and, unlike cheaper plastic decks, will not become brittle when exposed to sunlight. Moreover, the Honda blade is designed to twist rather than break if it hits a rock, so it does not damage the mower.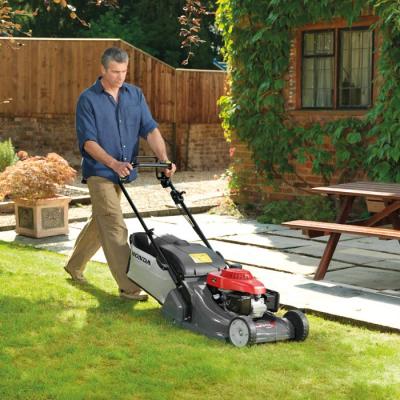 The HRS536VK is one of the lightest and most manoeuvrable models for cutting tall grass.
You have the option of side ejection or mulching with this model, and all you have to do is open or close the ejection chute. You do not have the task of grass bagging, so you do not have to cease cutting grass until you run out. The mulch left on the lawn will act as a fertiliser for future growth, leaving a luscious green lawn behind it.
The HRH536HX, the pinnacle of Honda's professional lineup, is designed to manage a demanding daily workload. With a 21" (approximately 53cm) cutting deck, the HRH536HX is ideal for lawns up to an acre. It is equipped with dual air filters and a larger 1.5-litre fuel tank for extended use. The HRH536HX is self-propelled, with the rear axles providing drive. In addition to propelling the mower forward, the HRH536HX's hydrostatic drive enables you to adjust the mower's forward speed with a lever located alongside the throttle control. The additional traction provided by the four-wheel design makes the HRH536HX the ideal mower for sloping lawns.
Equipped with a brushless EC motor and powered by a Thermo-Smart battery, this Honda lawnmower is supplied with a high continuous current and consequently maintains a constant RPM under all conditions. Don't assume, therefore, that the battery lawnmowers won't provide the necessary power. Honda's first line of cordless lawnmowers are on par with our petrol lawnmowers in terms of performance. These lawnmowers have a steel frame, are entirely weatherproof, and produce minimal noise. Reduce your effort with buying fuel for your mower with a cordless set-up. The range of batteries also fit a wider range of Honda Cordless garden tools.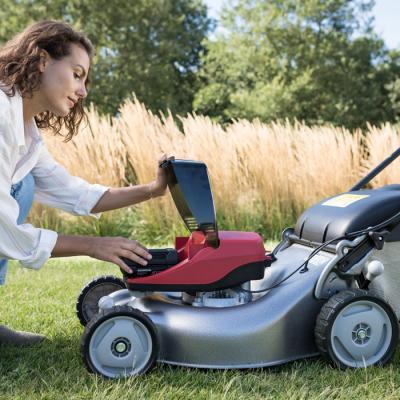 For more information about Honda Battery Lawn Mowers, please click HERE
Honda Warranty details.
There's a simple reason why you'll see so many old Honda products still in use. Honda's are built better to last longer. The cast iron warranty, for domestic and commercial use, will cover both manufacturing and material defects for a period of three years from the date you bought it, as long as you stick to the service schedule.
Our warranty maintains the same value throughout its lifetime, which means the last day of cover is exactly the same as the first. Make sure you only let a Honda Authorised Dealer carry out any service work and always use Genuine Honda Parts.
Basic conditions
The Honda warranty doesn't cover the following:
Damage caused by neglecting to carry out periodic maintenance as specified in the Owner's manual.
Damage to the engine caused by repairs or maintenance using methods not approved by Honda.
Any damage from the use of non-genuine parts, accessories, non-specified lubricants, liquid agents and fuel; plus damage that results from operating methods other than those covered in the Owner's manual.
Fuel system damage or engine performance problems resulting from contaminated fuel due to poor storage.
Time frames
Honda Warranty can vary depending on the product you purchase. Most mowers are supplied with either a 5 or 7 year class leading domestic warranty, or 1 year professional use warranty.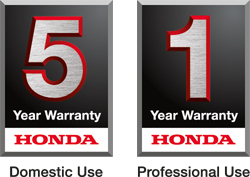 -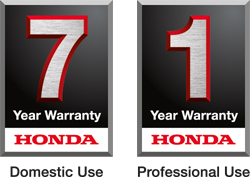 For more details regarding Honda Lawn & Garden Warranty, please CLICK HERE.
Final Thoughts on Honda Lawnmowers
Honda lawnmowers are a great choice for anyone looking for a durable, powerful, and easy-to-use lawnmower. With so many different models to choose from, you are sure to find one that is perfect for your needs. If you would like more assistance in choosing the best Honda Lawnmower for you, please feel free to Contact Us HERE, and we can get one of our knowledgeable sales team with over 40 years of experience to get in touch with you at a convenient time.
During 2023, all Honda lawnmowers are available at promotional pricing, with discounts already applied to our online prices.
Got more questions about mowers in general? Click HERE for our FAQs about buying a new lawnmower.