All New X350R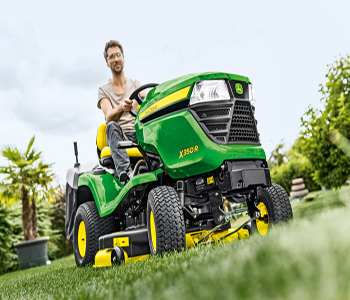 Easy, comfortable operation
The X350R lawn tractor is part of the Select Series range. It's easy-to-operate with Twin Touch™ transmission control pedals.The Twin Touch Hydrostatic Padels allow you to easily control the direction and speed of travel of the tractor without having to lift your foot off the platform.
So if you are looking for an easier way to get around everything in your garden, look no further.
Modern instrument cluster
The clear, car-style display is backlit for excellent visibility in all conditions. The overall design provides important feedback without distracting operators.

Why not explore the whole range of John Deere lawn tractors - http://www.mowwithus.com/John-Deere-Lawn-Tractors.html
With 30 models in the range and a large choice of cutter decks and accessories, John Deere is the traactor of choice for the descerning gardener.
The new Accel cutting decks along with the latest Mulch Control makes changing from collecting to mulching simple with just the flick of a lever.